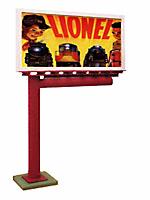 User experiences with the TrainMaster Command Control system...
---
FROM OGR MAGAZINE'S FORUM...
You can read items previously gathered from the AOL Train Boards here.
The following are selected from a thread started on the OGR Forum in answer to Jeff Trenholm's question, "How old is your oldest command control locomotive?"
My oldest TMCC engine is the C&O Semi-Scale "490 Chesapeake & Ohio" 4-6-4 Hudson Steam Locomotive w/ Tender & RailSounds II. Its among the oldest TMCC units having been released in 1995. I have not run it a lot because my layout is not yet constructed but I do run it occasionally on the carpet mainline and it does just fine. --A J Laban
Lionel #18130 Santa Fe F3 A-B-A from 1996. Still going strong with no problems. --etoytrains
NYC #2380 GP-9 and the C&O "Yellow-Belly" Hudson (which is actually running on my layout right now) both from 1995. --RDemo4
#238E Torpedo from 1997 is the oldest one I've got. It's all original except for the "hole in the baffle" fix from Jim's OGR article on smoke units. --KOOLjock1
I have the Lionel Commadore Vanderbilt (777) from 1996. It has run perfect from day 1 and still does. Also one of the best sounding whistles you will ever hear. --david1
My oldest is the C&O Hudson... never a problem. I have run it for 10 years. I think i will pull out onto the main line tonight. I also have 2 Commodores that run with the same consistancy.I believe the C&O was their first command steam engine. Lionel has better quality than they are given credit for. --woogie
I've got the Atlantic Coast Line F3 ABA set. Command and Railsounds are solid. It was flyered with the first command GG1 (Brunswick solid stripe-no sounds) and I think the blue TMCC/Railsounds Wabash Hudson. In fact, the ABA lashup is on the layout right now pulling the "stainless" 6 car ACL set. --Fred Brenek
B&O GP-9 with railsounds 2 or 2.5. and dual pulmor motors. Purchased new in 1999. No problems. Runs like a champ. --graz
Lionel #18130 Santa Fe F3 A-B-A from 1996, and the 2380 SP GP-9. both are still going strong. The GP-9 has lots of miles on it. --Dick Malon
Lionel Santa Fe Alco PA 18952 Dec 1998, Lionel NYC NW2 18959 March 1999, and Lionel NYC Baby Hudson 28007 Dec 1999. All running today only the Hudson needed a new harness wire 2 years ago. --CGWDick
1998 Southern Pacific Black Widow GP-9, never any problems, one of my favorite locomotives. --bayshore
We have the Lionel 180130 Santa Fe set from 1996, but the oldest is the Lionel PRR RS/TMCC 2028 GP-9 from 1995 or early 1996. Both have run without problems since new, though neither has been beaten to death with hours. Both have run extensive hours during an occasional two-day show, and modest hours at home. I have had to clean the rollers on the 2028 2-3 times, but aside from that, nothing has gone wrong. This means nearly 10 years of running on demand as needed, but we are not talking about engines that must run day after day for hour upon hour, nothing like that harsh usage. --Peter Bowler
I started with the N&W J War Horse, then added two GP-9s and the B&A Hudson. This was all back in 1995-96 and are what got me out of N and back into O Gauge. All are run intermittently straight off the shelf and might get a spot of oil if I happen to think of it. Absolutely no failures or glitches. Unlike some of the newer stuff, non-TMCC I never have any concerns about whether they will run. So far they are about as bulletproof as any of my PW items. They are my "Energizer Bunnies." --tonyh
Lionel B&A Hudson 1996. Best sounding whistle ever put out! I think it sounds better than all those 1500.00 whistles. Plus a Southern Pacific Geep - great horn on that one too. --Sean Marchev
According to my spreadsheet I bought my first TMCC engine on 3/04/97. I purchased the NYC GP-9 freight Set 2238RS. The spreadsheet also tells me I didn't purchase the Command base/Cab-1 combo until 4/3/97. Maybe had something to do with a tax refund. Anyway, that engine runs as good today as it did then. I bought several of the TMCC GP-9 engines and am happy with all of them. My first TMCC steam engine was the B&A Hudson #618 (18042) purchased on 10/11/97. --GregM
2380 NYC GP-9 from 1996. Completely trouble-free! --jlm
NYC 2380 Geep from the 1996 Command Control Freight set. Never a problem... decent puller, flawless operation, great graphics and a super sound system. If all command engine had a track record like this one, there would never be any complaints! I think the number of times this engine has come up already says somthing! I liked it so much that I subsequently purchased the 2028 Pennsy and 2383 NYC... all fine engines! --Peter Condro
I also have the C&O Yellow Hudson and have never had a problem with it. Looks great with the passenger cars that go with it. --Flashbulb Olsen
I got the TMCC NYC 2380 geep in late '96. Followed by the second NYC and both Pennsy Geeps. As for steam, I retro-fitted the much maligned Lackawanna Northern with an LCRU from Digital Dynamics about 2 years ago. So, that electronic vintage would probably be around '95. Haven't experienced any problems with it. --LocoBudd
Wow, we have been playing with command engines for a decade now. I think my Conrail/JB Hunt set had the best sound for a diesel I have heard, and the set is close to 10 yrs old. Believe it or not guys, it has working ditch-lights! And the horn will knock your boots off. --LocoKelvin
SP Geep from 1996. Ran the heck out of it back then, and for a few years after. It was my only TMCC engine until I picked uo a SF NW2 a couple of years later. Now I've got a bunch, but you always have a soft spot for your first. I don't run it that often anymore, but when I do, it still runs and sounds great. --Jon Lane
---
Here are more TMCC Experiences collected from the OGR Forum:
---
by 6140mikey
Well It took several months.
New layout. New switches. New rolling stock. Restoration of PW set. New TMCC engine, ZW, command set. A little frustration along the way.
TMCC is up and flying. I am converted.
How sweet it is!!!!!!
How can any of you guys want better control that this?
You guys that run just postwar like I did. THE DIFFERENCE IS DAY AND NIGHT. Probably one of the reasons I didn't stay with trains too much in prior years, I couldn't control the PW too well and didn't have the time, money, or inclination to design and build my own controls.
My RS-11 just creeps. I can easily place it within 1" of where I want it. A little off for unloading a car, bump the boost button and you move 1". Walk over to a area of what you want to control, sidings, whatever, and control it on the spot with a good view. It controls my PW Lionel #1666 better.
Sounds and smoke are good on the RS-11. Runs the Gargraves 0-42 switches fine so far. Pulled 13-14 cars with high acceleration like they were nothing.
Thanks to all you guys for the help. I have been sceptical at times.
---
by 0rail
Hello and Happy Holidays. I finally finished my rewiring, and set up TMCC. It's totally awesome. Now I really feel like I'm the engineer. The RailSounds and the Odyssey system work great. Now I'm looking foward to getting two more TMCC engines for my other 2 loops, after I save a few more pennies. Now I know what everyone is talking about when working w/TMCC. THANKS to everyone who helped a little along the way.
---
by CoalTrain
I got my first Cab-1 in December of 1994. At that time it basiclly controlled the Powermaster for track voltage control and some limited sound functions.
Then came Command Control which really changed my toy train operations with its versatility.
Now we have Odyssey-cruise-eob which really has taken the pleasure of operating O-gauge to a new level.
I was lucky enough to actually run switch engines for a brief but fun and unstressful period in my working career and the Odyssey system allows a truer feel to actually running a prototype engine. The sounds and the speed control are awesome. The only thing missing is the constant and nasty stink of an operating diesel. Well actually, I really don't miss the diesel smell.
---
by jperrine6
Last Christmas my wife got me a GG-1 with Lionel TMCC and Railsounds. I didn't have the controller for the TMCC and also I didn't have O-31 gauge track. Well this year I got O-31 guage K-line snap track and tried out my GG-1 on it. I still had a problem as the (tang) or whatever the part of the coupler that hangs down was hitting the third rail and shorting out the train. I figured this out after pulling up one of the loops of O-31 and putting down O-27 Lionel track. I still didn't have the controller or the base unit to try it out. Well I still have my Christmas layout up and my wife asked me about two weeks ago if I was ready to take the train down for the year. I told her no, I wasn't ready but asked her if she wanted me to take it down. She said no, that my grandson was not going to stay for a visit so it was ok to leave them up for a while. Well she said yesterday that something was coming UPS, but would not say what it was. Well it came today and it was the TMCC Cab-1 and base unit. Got it up and it is working just fine on the O-31 inner loop. I am now part of the TMCC world. I really love it and I told my wife now I got to get a steamer with TMCC. She said we will have to look for one. I really love my wife.
Jim
---
by Ted Bertiger
Since I do TMCC demos, I have an extra command base and cab-1 which I loaned to a friend who has been one of those "fencesitters" and not sure if he wanted to jump into command control. I set up the base on his layout in about 15 seconds, gave him a quick lesson on TMCC, put 2 engines on 2 loops (told him he could run both on one loop) and let him play with the remote.
He was hooked quite quicky to the tune of opening up OGR magazine and finding the store with the best price on a TMCC set and ordering it the next day.
I guess he is hooked, as he is up to his 4th TMCC engine. Once you try it, you do get hooked.
---
by Ralph_M
Well, I used to be one of those who'd run conventional forever and wasn't interested in CC. I was reluctant to change and somewhat timid about the "unknown." I'm a convert now.
I disagree that the stuff is cranky and expensive though. It may be relative to how much you have to spend as to what IS and what ISN't expensive of course, but I picked up the TMCC basic setup for under $100. I hooked it up and got everything running just as easy as pie. I already had a bunch of TMCC equipped locos and they all perform well. Like anything new, and especially if it involves electronics or technology, there's a learning curve - i.e., learning to "drive" the CAB-1 controls instead of the transformer.
I'm completely enjoying Command Control.
---
by sulafool
Being a hard core postwar guy I didn't try TMCC until just last winter and now I'm a believer. My postwar collecting is about done and I've been buying more new engines than old. For some reason I haven't had much luck running the new engines (esp. with Odyssey) in the conventional mode, so I find myself relying on Command more and more. My PW locos all run well, and you can't beat the ozone smell, but now I don't feel guilty letting them sit on the shelf enjoying a well-earned retirement. They still get some exercise, but not as often as they used to.
As far as command accessories, I feel some are more suitable than others. The crane car is nice but too expensive. Adding command to the 282 crane is something I may do, but there is still much enjoyment in "driving the sticks" to operate it. One accessory that is perfect for command is the MTH passenger station - my young grandkids freak out when the passengers magically board the train. Using the control button on that piece is way too obvious.
Also, I think using TMCC for switch control is a huge improvement over the old way. Being able to program routes is a blessing for those of us not as sharp as we used to be.
So, I don't believe that the old and new are mutually exclusive; one doesn't have to totally trash the time tested and proven to adopt the new. Use the best of both and double your pleasure, double your fun (as the commercial used to say).
---